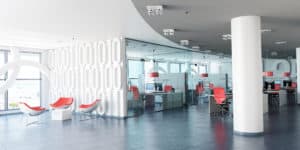 Open concept offices offer many benefits. Lighting, collaboration, and air flow. However, one negative consequence is noise pollution.
Noise is one of the most common complaints among officer workers. In an open concept or free flowing office with little to no separation between employees, noise can pose a serious problem to mental well being and overall productivity.
The University of Sydney in Australia found that a lack of sound privacy was one of the biggest drains on employee morale.
Noise Control Solutions
Prolonged exposure to noise, such as aggressive typing or loud sounds, trigger stress in our bodies. And, since mandating ear plugs or cotton stuffing for employees is not sustainable, the best solution is through thoughtful design.
Dedicate quiet and loud spaces for different teams and projects. Dedicated quiet spaces can work wonders for employees who want to put their heads down and get to work. While loud spaces will allow employees to collaborate without the fear of disturbing peers.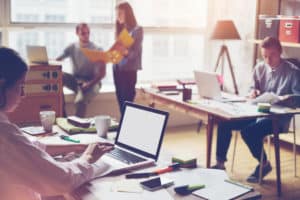 Get creative with the overall office layout by situating desks in clusters by team, task, or personality type.
Move nosier office equipment, such as the copy machine and printer, into a separate, closed off room.
Movable walls or portable screens can be rearranged to adjust for the needs of the day or month. These partitions can section off workspaces or create a divide between employees who need extra quiet time. One of our highlighted brands, Teknion, offers award-winning movable walls and screens to fit most office cultures.
Wall panels have luckily upgraded in recent years, and are not as aesthetically offensive as they once were. Modern wall panels come in a variety of materials that will absorb noise and can create a visually enticing design feature.
Full or partial storage walls will not only serve as a solution to stay organized, but will absorb sound from chatting employees.
Fight noise with noise by providing white noise machines or speakers to play in the background at a consistent level. Ambient noise will mask unwanted sounds and distractions.