As more companies upgrade and renovate their workspaces, the pressure increases to create a well-balanced, cohesive, but productive space that reflects not only your brand but your employees, too. A complete overhaul can be costly, so consider the power of color as a low-cost option.
Color can affect mood, behavior, and perceptions. Bold, bright colors can spring us into action, while soft, muted colors relax and center our thoughts. Think about how you can incorporate these five trending colors into your workspace.
Hazelnut
Classic, timeless hazelnut exudes warmth and comfort. It can claim confidence in a space, but is never overpowering. Use hazelnut in your office throughout your furniture selections or seating.
Lilac Gray
Modern, clean, but not boring; this gray can stand out and act as a solid neutral all at the same time. Large areas can be covered in this color without overwhelming the senses. Consider lilac gray as an all-over color for your office walls. It's a great alternative to white.
Dark Green
One of Pantone's top 2019 paint colors, this moody shade brings the drama. Since this hue is so new, save it for pops of color with accent pillows in the lobby or a piece of art on the wall. Those elements will be easy to switch out when the popularity fades.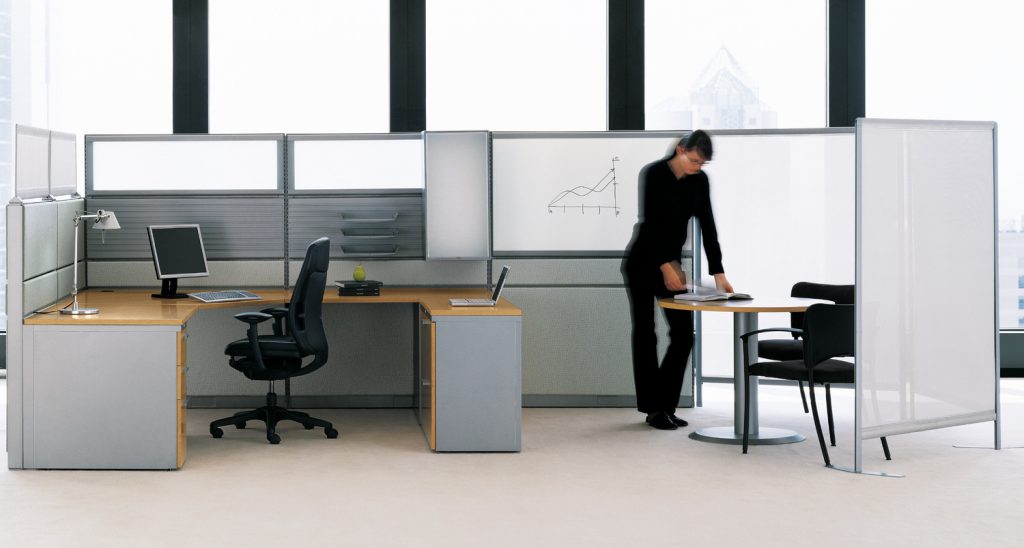 Pastels
Don't let these shy shades fool you—pastels are trendy but timeless. Think outside the box while incorporating this color scheme. Frosted glass room dividers and panel systems can bring pastels into a space. Pastel dividers keep the area light and bright but give just enough privacy for employees to remain focused.
Your Brand Colors
This one might seem like a no-brainer but survey your office. Is your brand represented in the colors you've selected? Besides business cards and signage, it might be time to incorporate your brand colors in a stylish, sophisticated way. This idea will always be on trend for your business because it will always represent who you are. Your customers have already associated that color with your brand. Why not use it in your space?
If you've been thinking of an office refresh, think about incorporating these trendy colors into your design. Interested, but not up to the task? Contact one of our experts today and we can help you put together a pleasing palette that works just for your space.