The requirements for the office environment are evolving rapidly. The factors contributing to this are increased and changing technology, real-estate costs, and the multiple generations now working together.
Due to technology, there is now the "third space". People can work 24/7 — at their home office, Starbucks, or anywhere there is Wi-Fi access. Savvy employers are now providing diverse and inspiring surroundings at work so people are motivated stay there to accomplish tasks, instead of going off-site.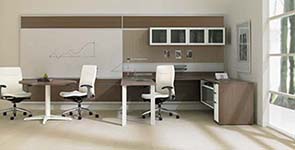 There are three predominant generations in the workplace: Baby Boomers, Gen X, and the emerging Gen Y or Millennials. Gen Y is the fastest growing segment and their work expectations vary greatly from their predecessors. The challenge that companies face is both the integration of multi-generations in the workplace, as well as providing an environment where they will all be productive, happy, and stay long-term.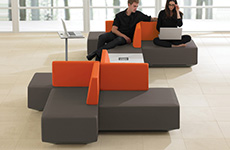 Another challenge businesses face is attracting and retaining young talent. Gen Y's demand work to be pleasant, creative and interactive, structured, but with no hierarchy. They have been raised to "experience" life, and if their needs aren't met, they move on. Gen Y's care about the environment, are globally-minded, and take a more holistic approach to life. They are interested in a relaxed atmosphere where collaboration is key.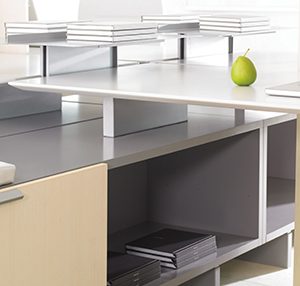 The office space is now defined by work style versus the antiquated status ideal. There is a need for 'we' and 'I' spaces. High panels and private offices of the past are not beneficial now. Low panels and open workstations increase communication, learning, and teaming. Smaller and/or shared workstations are necessary to keep real-estate costs down. Touch-down spaces, with and without privacy, enable employees to accomplish personal tasks, while taking up less space.
Many furniture products recently introduced reflect these attributes of collaboration, utilizing smaller spaces, and multi-functional pieces.